I just saw one of the news networks mentioned about Mega Millions will draw at 11 p.m. tonight EDT (Tuesday, July 26, 2022). I said wow, $830 M, what am I going to do with that much money??? Anyway, any one of you want to have a chance to get almost a billion dollars or a portion of them or a small fraction of them, then head to the grocery store or gas station or lottery selling store buying for yourself a ticket. How about me? I don't know. I'm kind of lazy to move my butt now because it just stopped raining. Every time, there is rain or cloudy, my whole body is lazy. Today, I was kind'a good, I did some posts with this type of weather condition. It was good weather today. It was sunshine in the early morning and before noon, then cloudy after noon and rain in the late afternoon. It was not bad but just because of me. I hope I can keep that way going on forever; I mean keep posting more and more posts on the rainy and cloudy days.
I just went to megamillions.com website to double check whatever the news channel said. Here is a screenshot of it.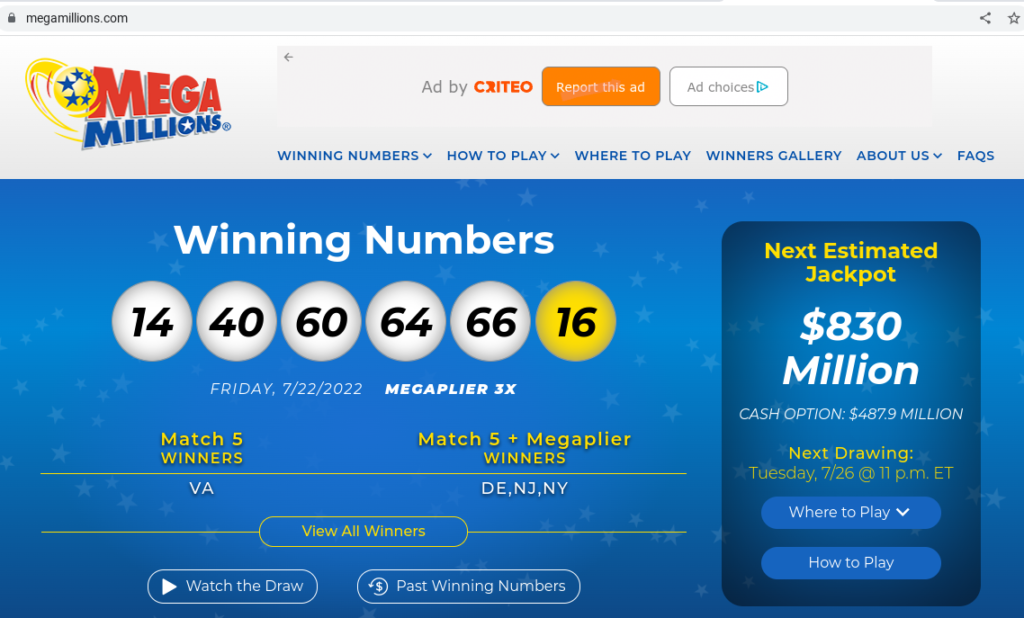 I heard tonight drawing is the third largest Mega Millions jackpot prize in the last 20 years of the game.
The most recent jackpot winner was on April 15, 2022 in Tennessee.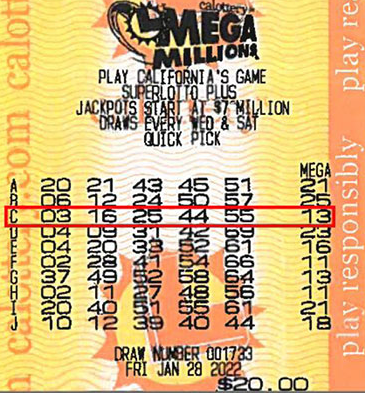 Here is a screenshot of one of the winning tickets. The amount winning of this jackpot was $426 million dollars which was purchased at a Chevron station in Woodland Hills, Los Angeles County in January.
The winner number: 03 16 25 44 55 and mega # 13
Okay, whoever wants to be a million, go to get a chance.
Oh, I forgot to mention with you that you need to go there early than 11 p.m. to purchase a ticket. As far as I know, they stop selling the ticket before 11 p.m. I'm not so sure about this. I recall there was one time I went to purchase a ticket late. The clerk told me that "for tonight's drawing, it was stop selling tickets after 10:30 p.m." and she told me if I purchased one, that would be for the next drawing. Also, you need to go there early because, of course, there are many people in the line to get a chance to be millionaires.
Money, money saving, insurance… coming soon.
Yaskme
July 26, 2022 7:12 pm Tuesday
P.S.: I just made a correction about Mega Millions website. Somehow, I wrote it down as megaball.com, maybe, I was so excited about the news of almost one billion dollars. Luckily, I took a screenshot about the site which included the address of Mega Millions. Once again, the correct website address for Mega Millions is megamillions.com.(Friday, July 29, 2022).